This page is to help club members benefit from each other's knowledge of the waters and land around Selby Bay.
Please contact Tamás Várnai (301-614-6408) to share your knowledge with fellow sailors.
Any piece of information is appreciated, such as attractions, good landing spots and marinas, restaurants, anchorages, or hazards.
Additional resources available include free nautical charts and commercially available books.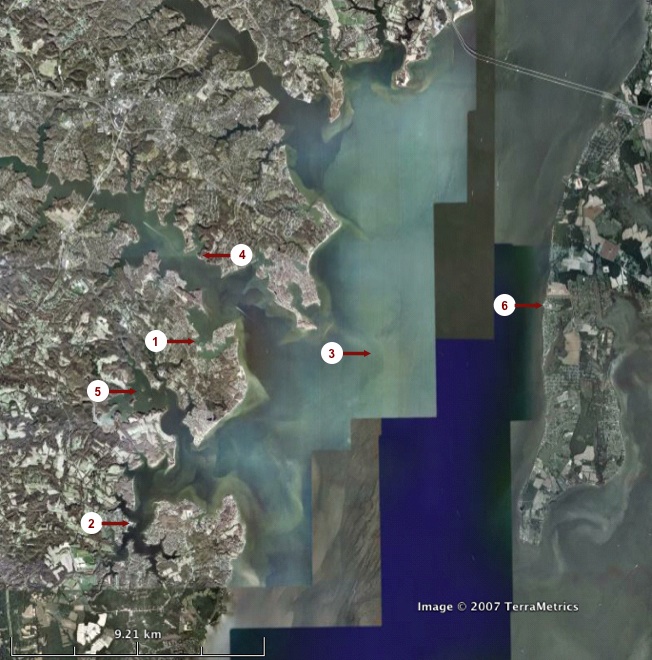 Symbol
Description
1
Selby Bay Sailing Center
In addition to the Goddard sailboats, the NIH sailing club and the Flying Scot Fleet 42 are also located here.
2
Pirate's Cove Restaurant and Marina
Additional information that would be welcome include: where exactly to tie up a boat, how long it typically takes to sail there, whether the restaurant is often crowded or requires a long wait, etc.
3
Thomas Point Shoal Lighthouse
The lighthouse was built in 1875 and switched to automatic operations in 1986. It is a National Historic Landmark—one of only nine lighthouses in the US to receive this highest honor afforded to buildings. The lighthouse is in excellent condition and will be open to public tours once parts of its interior will be restored to represent their state in the early 20th Century. It reaches 43 feet above water and operates a foghorn and a white flashing light visible from up to 11 miles, as well as an automated weather station. Current weather at lighthouse, Photo from a club sailboat.
4
Quiet Waters Park
A big park with attractions such as walking/biking trails through fields and woods, an art pavillion, fountains, gardens, and a playground. Visible from the South River are two gazebos and a dog beach where only dogs are allowed to swim. The South River is quite shallow in front of the park, but a scenic inlet (Harness Creek) on the West side of the park is deep enough for sailboats—though trees may block the wind. Additional information about the park.
Photos: Dog beach, View from the park across the South River toward Selby Bay (center) and the Chesapeake Bay (left).
5

Rhode River


A scenic body of water with little human presence along its shores. The river hosts two islands and the remnants of a third one. These are, clockwise from South-West: Big Island (private land), Flat Island (great for exploration), and High Island (almost entirely washed away by the waves). Excellent location for overnight anchorage (for example next to Big Island), with services available at nearby marinas. Highly recommended to stick to the marked channel, even in the Scots. From Turkey Point to Mayo Beach to Dutchman Point, the waters inshore of the channel are crowded with crab pots and shoals. Route is approx. 8 miles following the marks.
Photos taken from the North shore: View to Southwest, with Big Island at the center, View to East, toward the Chesapeake Bay, Another view to East, The sandbar that is left of High Island, Flat Island, Another view to Flat Island
6
Kentmorr Restaurant
Kentmorr is a marina and restaurant on Kent Island, about 4 miles East of the Thomas Point Lighthouse. In light winds and using the cruiser motor, the trip from Selby Bay takes about 3 hours each way. The chart says the bearing is about 75°. There is a brown cone-like silo, such as for road salt, which makes an excellent land reference point for navigation. The entrance to the marina is 20+ feet wide, and there is plently of water for First Light's 4ft draft. The restaurant is almost directly on the dockside. There are almost a dozen perpendicular slips specifically for diners to the east of the arrow, barely 10 feet from the front door. "2 hour free docking while dining" says the website. Several slips are available, but one can also point the bow out to the bay and make fast on the wharf at the green arrow in the image below. Dining: Casual dining both oudoor and indoor (air conditioning), good food ($12-20 for seafood entrée), good staff, we'd go back, check out the specials. Restaurant menu View of Kentmorr from above, Kentmorr in Google Maps